InfiRay Tube TD50L Digital Night Vision Rifle Scope
Regular price
€1.150,00
/
Tax included.
Shipping
calculated at checkout.
---
InfiRay Tube TD50L Digital Night Vision Rifle Scope - A high-performance scope
Designed in the traditional day optic form factor to accommodate optimal use on bolt action rifles. Great for outdoor irish shooting sports. The TD50L is the perfect digital night vision optic for the discerning hunter looking for classic aesthetics and excellent low-light sensor sensitivity. Featuring a 13+ hour run time and an IP67 rating, the TD50L can last all night in any hunting conditions.
Excellent NV Capability
Combination of 50mm/F1.2 large and quality objective lens with 1440x1080 resolution CMOS HD sensor with ultra-low light performance and high definition display, powerful IR Illuminator, integrated highly effective algorithm, etc. make the TD50L the perfect digital night vision riflescope with excellent nighttime sensitivity and night vision capabilities for users, even on moonless nights.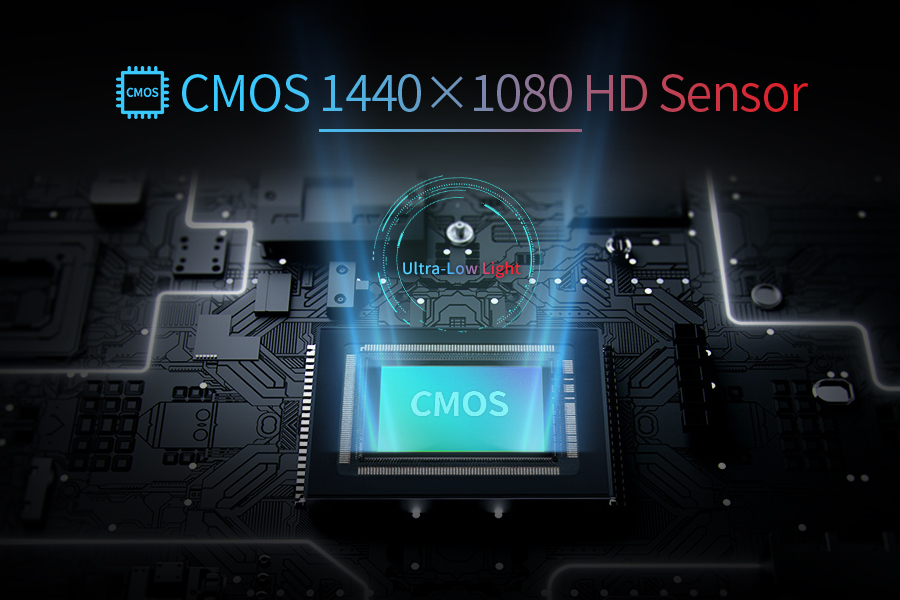 InfiRay Tube TD50L Digital Night Vision Rifle Scope supports Three Image modes
There are three image modes inside of the Infiray TD50L-Day mode, Moon mode and Star mode. Under the Day mode there is an extraordinary display of true colors to the authentic scene in visible sight. Under the Moon and Star Mode TD50L not only seek to offer users ultimate nighttime visibility but also offer a clear imaging display in the view range of observation without any delay. The specially designed Star mode still creates a clear night vision range even in ultra-low-light conditions or a moonless night.

InfiRay Tube TD50L Digital Night Vision Rifle Scope supports 600 m Nighttime Viewing Range
The TD50L is a perfect tool for detecting targets such as a wild boar or deer at distances ranging up to 600 meters in nighttime as a result of the combination of the best nighttime sensitivity in its class, HD resolution display, a wide selection of brightness adjustment and the powerful external detachable IR for moonless nights, etc.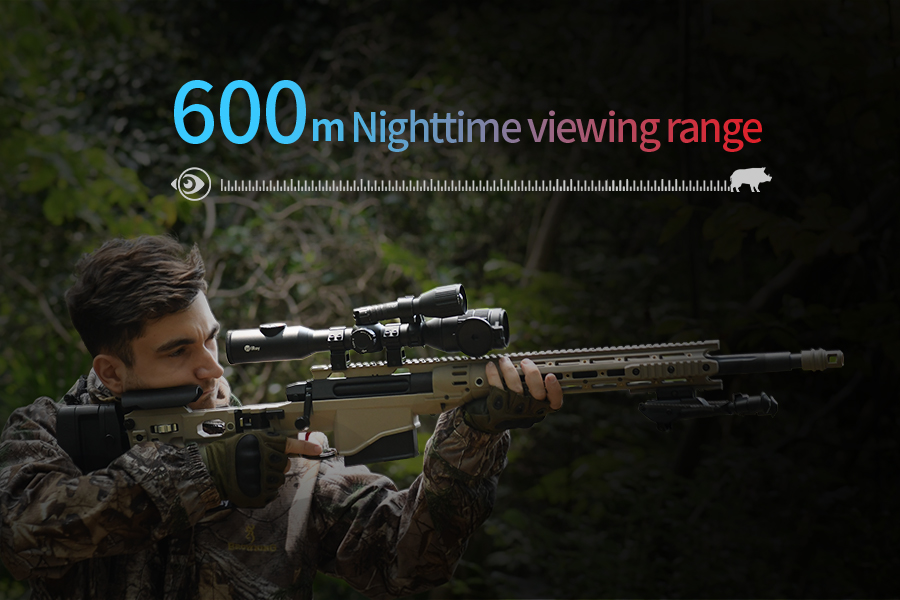 InfiRay Tube TD50L Digital Night Vision Rifle Scope features 4x-16x Smooth Continuous Zoom
The base magnification of TD50L increases by four times – from 4x to 16x.  Compared with normal integrally multiple zoom-in, TD50L allows users to zoom continuously and gradually from 4x to 16x where is a customized field of view and smooth zoom of screen display can be enjoyed. A flexible zoom-in and out function can be handled in your hands.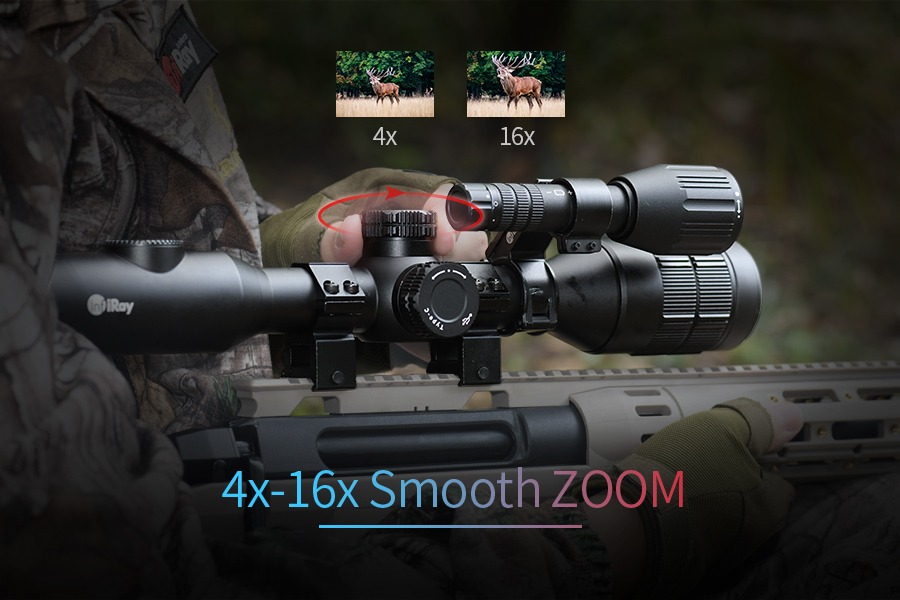 Dual Power Supply System
InfiRay TD50L digital NV riflescopes are powered with two kinds of rechargeable batteries: built-in 6600mAh battery and the other replaceable 18500 battery located in the battery compartment which supports a over 13H battery life. When discharge of the battery in the battery compartment, the riflescope switches automatically to the built-in battery. The replaceable 18500 battery can be removed and replaced in seconds without intermediate shutdown happens on the riflescope.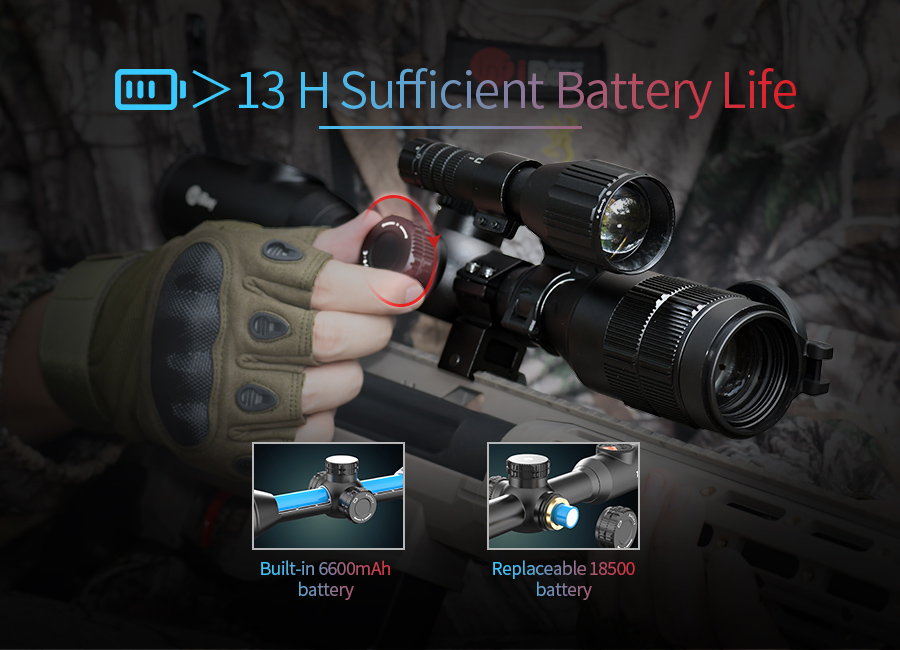 Compatible with Standard 30-mm Scope Rings
The newly designed standard 30mm-diameter tubular appearance allows the TD50L to be installed on standard 30mm scope rings and easily mounted on a rifle's Picatinny rail system with simple operation, stability and reliability. It is a classic also practical construction design.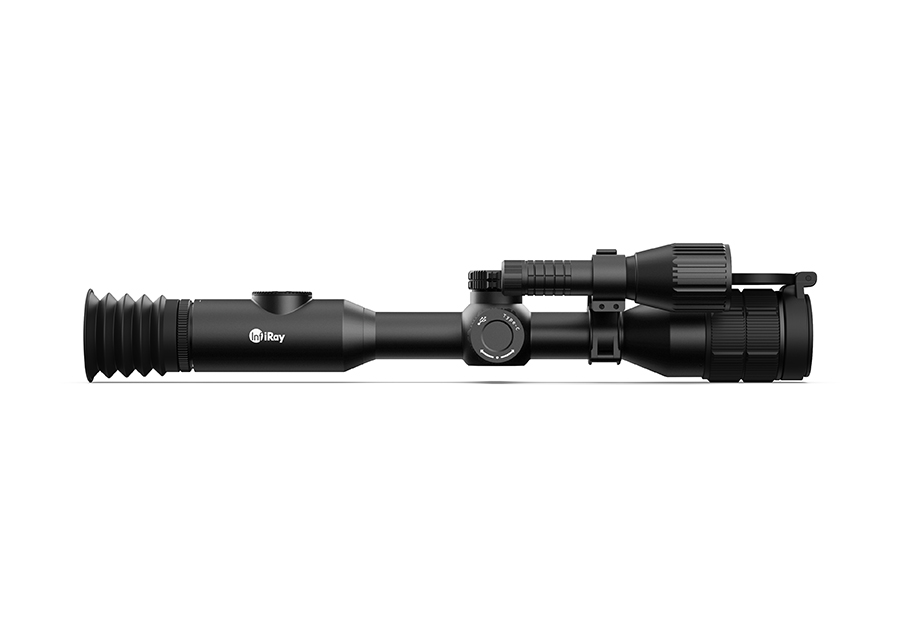 Powerful 850nm/940nm IR Illuminator
The Infiray TD50L is supplied with an optional 850nm or 940nm IR illuminator to allow for increased illumination while staying undetected to the target. Three adjustable IR power levels allow the user to choose their preferred illumination level based on the range to your target, or environmental conditions.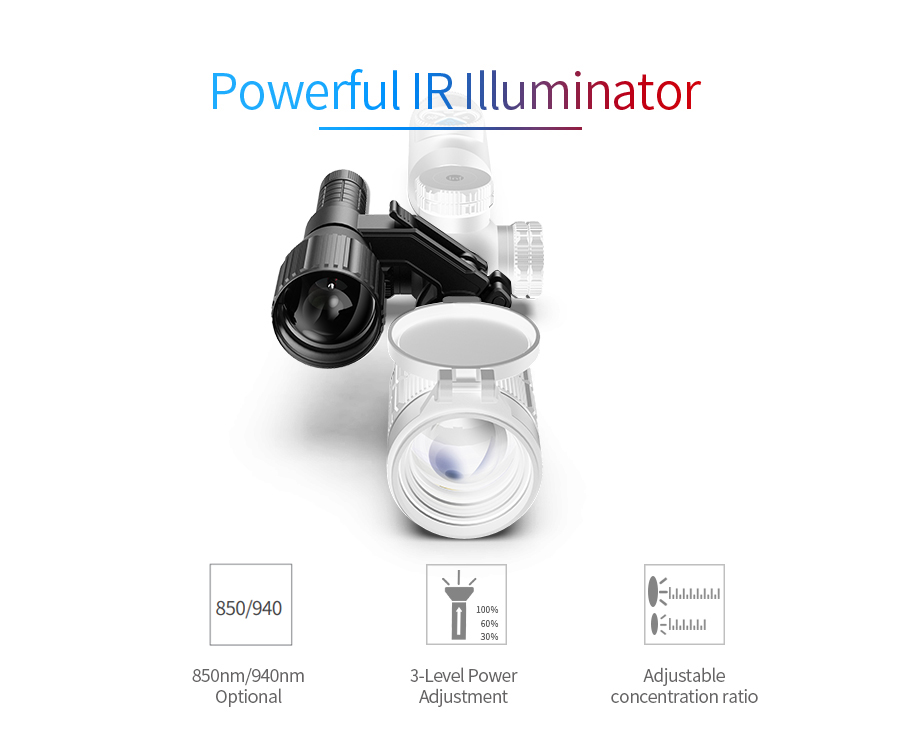 IP67 Protection Rate
The TD50L features an IP67 level of protection, which means it is fully waterproof and dustproof. The riflescopes are able to operate in high humidity, heavy rain or precipitation of any intensity and survive a long time and the 1m-deep submersion.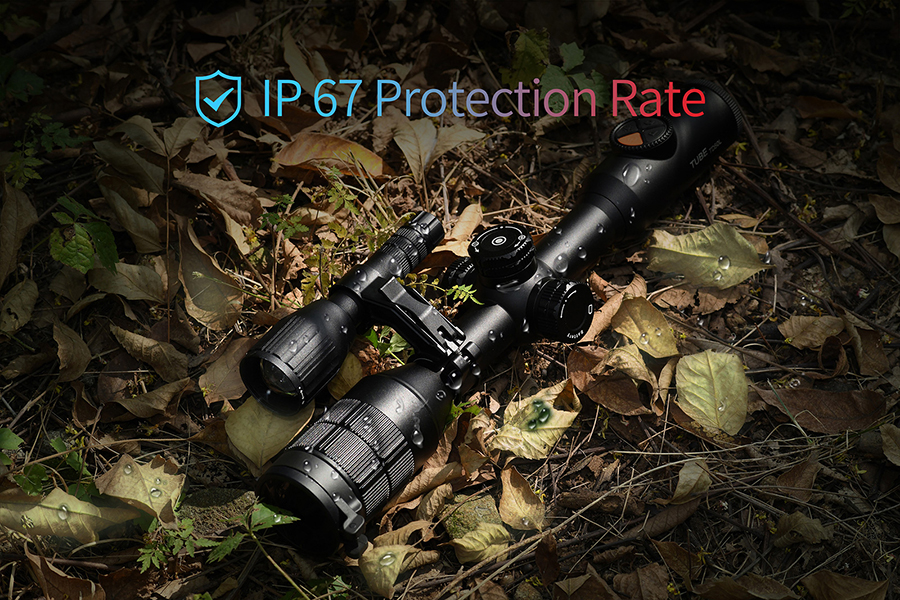 Picture-in-Picture Mode (PIP)
The Picture-in-Picture function in the TD50L improves aiming accuracy by providing a 2x-magnified image of the reticle area at the top of the display. It helps users to zoom in on a target while maintaining visibility of the entire field of view for increased situational awareness.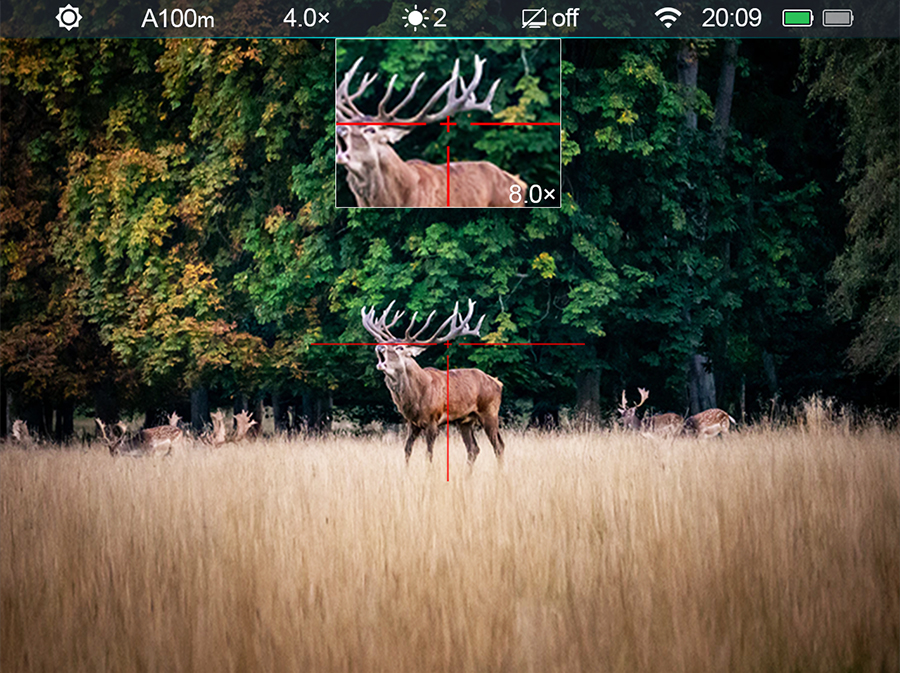 New Freeze Zeroing Function
The new function is developed inside the TD50L-Freeze Zeroing. The biggest advantage brought by this special function is the flexibility on moving your guns when zeroing and without any influences on the zeroing data that is kept inside of storage.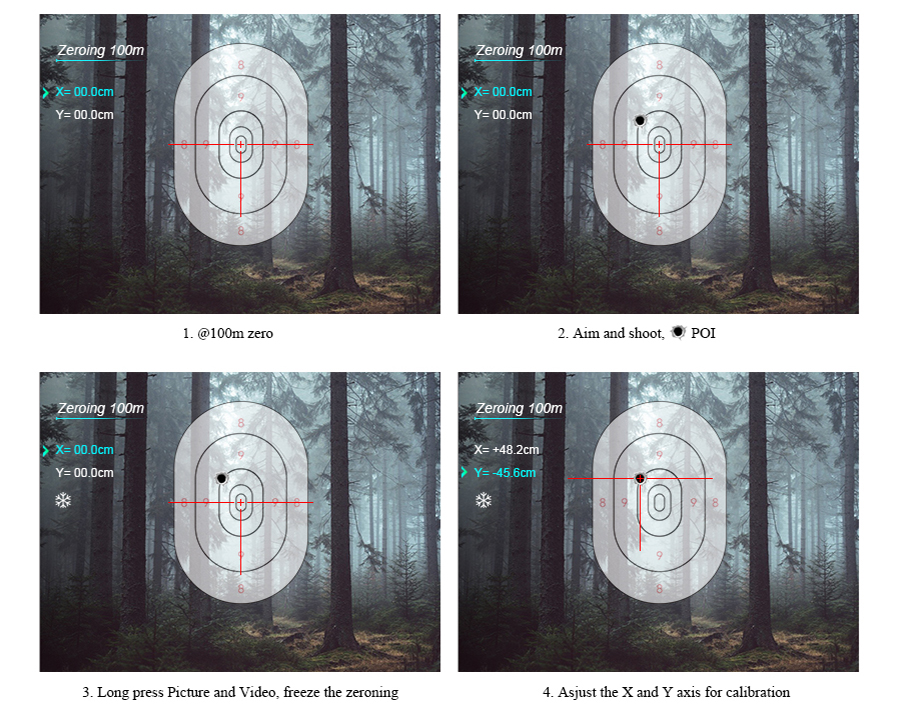 Integrated Wi-Fi and InfiRay APP Support
The built-in Wi-FI module of TD50L allows users to connect NV riflescopes with devices using the InfiRay Outdoor APP. This connection will open up a range of options for users such as photo and video storage, etc. as well as other features options under development. 
Useful Reticles Design
TD50L digital night vision riflescope has 6 optional basic reticles to fit users' different preferences, when users zoom in or out the screen display by rotating the knob, the reticle scales up or down proportionally to the riflescope's magnification changes and remain constant on dimension and details part, allow users to adjust for various shooting distance needs.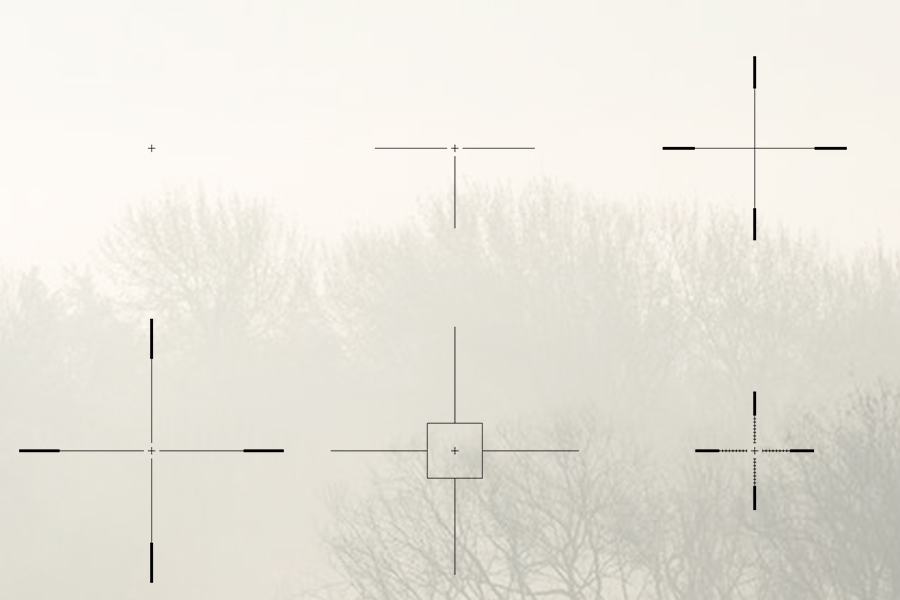 InfiRay Tube TD50L Digital Night Vision Rifle Scope specs
| | |
| --- | --- |
| Model | TD50L |
| Sensor Resolution, pixels | CMOS 1440×1080 |
| Pixel Size,μm | 4×4 |
| Frame Rate, Hz | 50 |
| Objective Lens, mm | 50 (F1.2) |
| Field of View,º | 6.6×4.9 |
| Magnification, x | 4x~16x(4x Zoom) |
| Eye Relief, mm | 70 |
| Display | 1280×960 LCOS |
| Capture/Video Record Resolution, pixels | 1280*960 |
| Detection Range, m | 600 |
| IR Illuminator Wavelength | 850nm /940nm (optional) |
| Battery | Built-in 6600mAh and a replaceable 18500 Battery |
| Max. Operating Time (at temp.=22ºC), h* | >13 |
| External Power Supply | 5V (Type C USB) |
| Tube Diameter(for the Mounting Rings) , mm | 30 |
| Max. Recoil Power on Rifled Weapon, g/s² | 1000 |
| Degree of protection, IP code (IEC60529) | IP67 |
| Built-in Memory, GB | 16 |
| Weight (without replaceable Battery), g | <1000 |
| Dimension, mm | 395×85×75 |
| APP/Wi-Fi | Support (InfiRay Outdoor) |
User Manual: Download
Check out our Optics Accessories 
What is the process for purchasing ammunition online from redmillsoutdoorpursuits.ie?
Yes, it is possible to order ammo online. All you need to do after purchase is to send us a copy of your licence and we will get your ammo shipped to your address! Most of our orders are delivered in 1-3 working days! See our delivery terms here.
Please note ammunition can only be purchased for a firearm that you have a license for. 
After browsing our online store and selecting the suitable ammunition for your firearm, you will be brought through the checkout process where you will be requested to pay for the ammunition.
Once the purchase process is complete, and you have paid for the item, this is the process you will have to go through before your ammunition will be ready for delivery or available for you to collect from our shop:
Supply us with your Firearms Licence details by one of the following methods:
Still confused?
Email us on info@thegunstore.ie. 
*See full T&C's.